The Strong Interest Inventory® Certification Program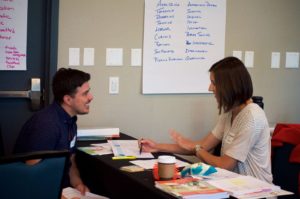 Qualifies new users to purchase, administer, and interpret the Strong Interest Inventory® instrument, and provides experienced users with new interpretation strategies and updated research. Learn all of the ins and outs of the instrument, and receive documented equivalent training to college course work in psychological tests and measurement.
What Is Included?
Discussing an ethical dilemma

Individual and group interpretation strategies

Holland's theory of personalities and work environments
History and construction of the Strong Interest Inventory® instrument
Hands-on activities and worksheets to use with clients and students
Viewing and practicing interpretations for real experiences
Ethical guidelines and assessment issues
Career development, career change, and job fit applications
Who Should Attend Strong Interest Inventory® Instrument Certification?
Career counselors, career coaches, HR consultants, outplacement specialists, and other professionals who wish to become certified to purchase, administer, and interpret the Strong Interest Inventory® instrument.
Strong Interest Inventory® instrument users who are eligible to purchase through their education, but who want the very latest information about the support materials and ongoing research.
Program Requirements:
Full program attendance.
A practice interpretation with a partner.
A multiple choice examination that is completed as a group.
The Strong Interest Inventory® Certification Program is offered primarily through Distance Learning and on an in-house basis. Please contact us to host a program on your campus or in your area.
Click here to download a flyer for this event!
Strong Interest Inventory Certification Program
June 17, 18, 19, 2019

Location: Hilton Garden Inn San Diego Del Mar
Block of rooms at this location for our group: $174.00/night + taxes & fees,
limited number of rooms available at this rate.
Registration fee: $1,145.00
Click here to register and receive an invoice and further information!
Required materials for the course are in addition and cost $99.00 + tax & shipping from a different vendor. We will send ordering information with your invoice.
Take a look at our Photo Gallery from previous Strong Interest Inventory Certification Programs!
Due to space limitations in this specific program and location, we can only accept up to three persons from one department. Thank you for your understanding. If you have more than that or you do not all work ont he same team, please contact us.
.
Registration Deadlines and Cancellation Policies for Public and Onsite Programs
For public certification programs, the final registration deadline and the refund deadline is as noted for each specific program.
Refunds are given, less an administrative processing fee, if written notice is received two months or more prior to a program's start date.
No refunds will be made for no-shows or cancellations received after the cancellation deadline, two months prior to a program's start date.
Substitutions may be made at any time prior to the program with approval from GS Consultants or the host site.
If space permits, you may transfer from one certification program to another. A transfer fee will be charged.
For public workshops, we will accept registrations until the programs are full. These programs often close early because enrollment limits have been reached, so register as early as possible. Your workshop registration fee, less a $200 administrative fee, will be refunded if written cancellation is received ten (10) business days prior to the workshop date.
Continuing Education and Academic Credit
GS Consultants is approved by the National Board for Certified Counselors to offer continuing education activities for National Certified Counselors and Master Career Counselors, and by the National Career Development Association for Global Career Development Facilitators. We also offer continuing education toward the MBTI® Master Practitioner Credential.